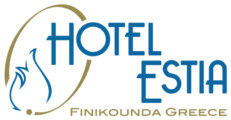 We aspire to give you a comfortable, relaxing and memorable place to stay.
Hotel Estia is owned and operated by Glen Milliken and Stavroula Gallos. Originally from Toronto, Canada, Stavroula grew up spending summers in Finikounda (her father having grown up nearby); Glen first visited the area on the couple's honeymoon. Since 2003 they have made Finikounda their home and welcome the opportunity to share their love of the area with guests.
Naturally curious, they have explored most of the local area, including off-the-path little dirt tracks and have found some interesting places that even most guide books don't mention, such as unexcavated catacombs, caves and hidden beaches. Having visited various sites in the Peloponnese, they love to answer people's questions, or suggest places for sightseeing and exploration.
In addition to managing the hotel, Stavroula and Glen tend over 1000 olive trees on the family's olive groves.
Come visit us at Hotel Estia, in the lovely seaside village of Finikounda, and discover for yourself this beautiful hidden little gem.
**Fluent in Greek and English.
Who was Estia?
The Greek Goddess Estia, (sometimes transcribed from Greek as Hestia), is one of the Twelve Olympians: the ancient Greek gods and goddesses who made up the pantheon ruling Mount Olympus. Referred to as 'Hestia, first and last', she is actually both the oldest and the youngest of the 12 Gods. Her jealous father, the Titan, Cronus, determined to secure his own power, devoured all of his children; Estia was the first to be swallowed up, and the last to be spit out.
Estia's Place in the Pantheon
Estia is linked with the home and, more specifically, the family hearth. One myth has her sacrificing her position in the heavenly order to Dionysus, so that she can tend to the fire on Mount Olympus. This explains Estia's other symbols: the circle and the sacred flame detailed in Hotel Estia's logo. She is also linked with caves - temporary shelters for those caught out in the elements. Being connected to both our primordial need for fire and shelter, many scholars believe that Estia may predate the Olympian gods.
Estia and Hermes the god of Travel
Although Estia was a virgin goddess she is deeply connected with Hermes, a seemingly unlikely pairing. While Estia never ventured far from home, Hermes was the god of travel. The two were often depicted together - Hermes representing the craving for adventure and novelty, Estia the need for the comfort and security of home - polar opposites, but both essential parts of the human condition.
Hotel Estia offers all followers of Hermes a home on their travels